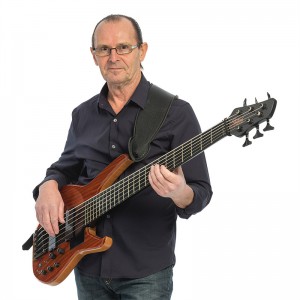 Australian Premier Bass Player
Multi Release Recording Artist, Writer & Producer
Charting On Essential USA Smooth Jazz  Radio Stations
Collaborating With The Very Best Of The Music Industry
CEO / Owner Of Dim & Dimmer Recording Label
Manufacturer Of Wayne Jones AUDIO,
High End, High Powered Cabinets & Preamp
Currently based in Melbourne, Australia, Wayne is originally from Wales. When he was 11 years old, his family immigrated to Australia. He started playing drums when he was 13, but at age 17, he suffered an industrial accident, which caused the loss of the use of his left thumb. At this point, he took up the electric bass, and he has never looked back. In addition to designing and producing some fantastic bass cabs, Wayne is primarily a solo bass player, writer and producer, and has his own record label. Wayne has CD's out and on radio in the smooth / contemporary Jazz markets in USA, Europe & more. They feature top USA players Rick Braun, Philippe Saisse and Mike MacArthur. Joining Wayne fot the Australian contingent is Fallon Williams and Ron Peers. Prior to this, for over forty years, he was a sideman in the Australian music scene, touring, sessions, etc. Wayne provided master classes and taught at various colleges.
Continuing to bring the thunder from Down Under on his new 5-track set MR. JONES, Australian bassist, songwriter arranger and performer Wayne Jones, a renowned session musician who launched his solo career in 2006, keeps that perfect balance between tunes that are lush, melodic and sophisticated and others that showcase his freewheeling and wildly energetic ways. Working with top genre stars like Rick Braun and Grammy-nominated keyboardist Philippe Saisse, who is featured on "5 To 6," Jones creates a dynamic array of moods, from the bright and brassy new single "A Day at the Beach" to the strutting and funky "Get Up" and light and breezy "Sweet Melody". Another highlight is Jones' buoyant Latin excursion "The World Keeps Turning." You'll enjoy experiencing the wild, wonderful world of MR. JONES!
Johnathan Widran ~ Smooth Jazz Global
'Mr. Jones' takes the thread to its natural conclusion. Wayne Jones delivers a perfectly executed and impeccably polished sound, where each and every note can be savoured. It defies logic that the musicianship bar could be raised any higher, yet here it is.
Greg Phillips ~ Australian Musician Magazine
Wayne Jones AUDIO
Whether you choose the "stereo pair" with the Active and Passive WJ 1×10's, a single Active WJ 2×10, or the 2,000- watt double-stack of WJ 2×10's, these new cabs from Wayne Jones are no mystery. They are simply some of the best sounding cabs on the planet.