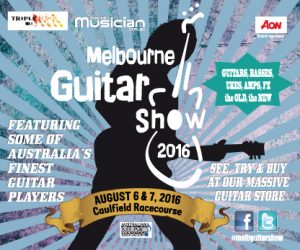 Wrap-up for the Melbourne Guitar Show 2016 at the Wayne Jones AUDIO stand. 2nd day in and "Did that just happen?!" Very impressive booth performances by Drew Dedman from Superheist, Christopher Bekker and a bunny. Tyson Constantinou stopped by again to get one more feel of that Wayne Jones AUDIO and Fodera Guitars Monarch 5 Deluxe combination. He does that gear justice.
Big thank you to Simon Hosford for sitting in with Chris for their stunning version of Miles Davis's "All Blues".
Booth Performances by:
WAYNE JONES
CHRIS BEKKER
Chris has performed and recorded with some of Australia's biggest artists including Ian Moss, James Reyne, Tina Arena, Richard Clapton, Jon Stevens, Mark Seymour, Ross Wilson, Renee Geyer, Vika and Linda Bull, Jade McCrae and Paul Grabowsky
DREW DEDMAN
www.superheist.com.au
www.facebook.com/Superheist
www.facebook.com/drewdedmanbassplayer
On display were two stunning Fodera bass guitars. Wayne with his Custom Fodera Monarch Elite 6 and a Fodera Monarch 5 Deluxe bass guitar, which a number of very lucky people got to try with the Wayne Jones AUDIO bass rigs.
Reminder; the Monarch 5 Deluxe bass guitar is for sale. Try / Buy Monarch 5 bass in Melbourne
www.fodera.com