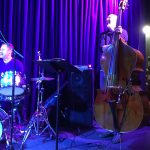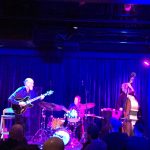 Scott Colley on double bass with the John Scofield Trio, Bill Stewart on drums.
Had an amazing night at Melbourne's new jazz club Bird's Basement again. This time to see John Scofield Trio. Astounding musicianship all round from this trio.
There's that happy smile again that all bass players get when they plug into the WJ rig. Scott Colley is playing through a WJ 1000 Watt Powered 2×10 cab with the WJBP Bass Pre-Amp.